Monteverdi Vespers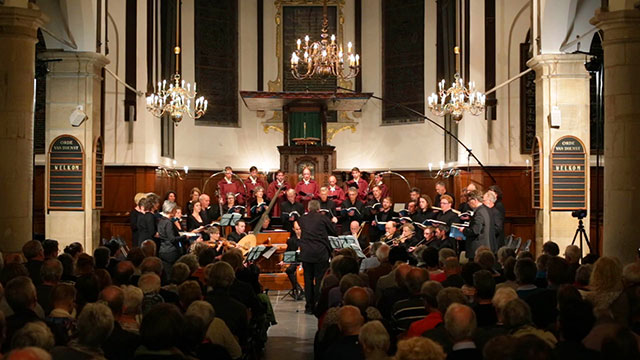 8:15 pm, Friday, 19 May 2017
Oude of Pelgrimvaderskerk, Aelbrechtskolk 20, 3024RE, Rotterdam (map)
Entrance: €27.50.
3:00 pm, Sunday, 21 May 2017
Grote Kerk, Kerkstraat 20, 5211KG, 's-Hertogenbosch (map)
on-line ticket sales.
Programme
Claudio Monteverdi (1567-1643):
Vespro della Beata Vergine (1610)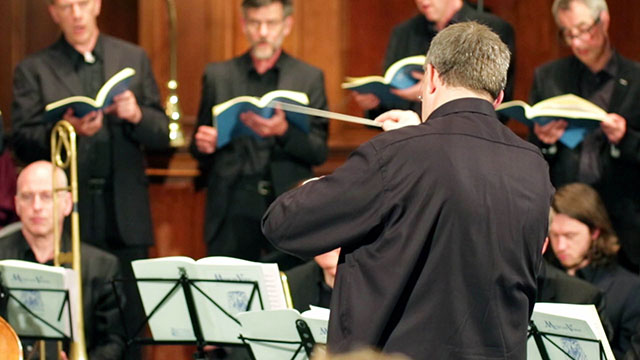 Jubilee programme
This year marks Cappella Gabrieli's thirtieth birthday. In 1986, Stichting Koorprojecten Rotterdam was created so that a small rotating group of trained singers couple prepare beautiful concert programmes. The choir often invited specialists to work on these programmes, including Harry van der Kamp, Frans Moonen, David Wulstan, Andrew Parrott, Ton Koopman and Uwe Gronostay. In addition, the choir made four CDs and performed the premieres of a number of works written especially for us. In 1999, we switched to a choir with a fixed membership, and under a new name: Cappella Gabrieli.
We shall celebrate our thirtieth anniversary with two performances of Claudio Monteverdi's Vespers, with baroque orchestra In Stil Moderno and vocal soloists. Conductor Maarten Michielsen explains why he opted for this work:
'Art dedicated to Mary has always occupied a special place in religious art. Sacred music with a Marian theme was traditionally more expressive, more emotional, than conventional church music. Palestrina, whose style was considered the gold standard for church music in the sixteenth century, wrote in the preface of one of his motet collections: 'I set this text to music, addressed to the Blessed Virgin, from Solomon's Song of Songs. In addition, I used a more passionate idiom than in my other religious works, because it seemed to me that the poems demand it.'
'It is no coincidence that another work dedicated to Mary made equally groundbreaking use of the seventeenth century's new musical style. This revolutionary work used the innovations arising from the then still very early Venetian opera style for the first time in a grand spiritual work.
'For Cappella Gabrieli, the choice of Monteverdi's Vespers, following our performance of the complete collection of Palestrina's setting of the Song of Songs in 2015, makes complete sense. Palestrina's settings are among his best work, and among the the most beautiful music from the sixteenth century. After that, you naturally only want to sing the best music by composers who fit in the series - Palestrina, Monteverdi, Bach, Mozart, Debussy and Schönberg!'
We would be very happy if you would celebrate our anniversary with us, and the more, the merrier! We are therefore offering discounts for the concert in Rotterdam. For example, for 10 or more tickets, you get a discount of €5 per person. Don't delay; the Pilgrim Fathers Church is not large!
Soloists

Andrea Tjäder
Swedish soprano Andrea Tjäder has completed singing degrees at Birmingham Conservatoire, UK, and at the Royal Conservatoire of The Hague. During her studies in the Netherlands she specialised in historically informed performance practises under the tutelage of Rita Dams, Jill Feldman, Michael Chance and Peter Kooij. After graduating cum laude in 2013, Andrea has gone on to perform with many different ensembles and opera companies both in the Netherlands and in the United Kingdom.
Operatic roles include 'Poppea' in Monteverdi's L'incoronazione di Poppea, the title role of Handel's Semele and 'Zweiter Knabe' in Die Zauberflöte by Mozart. Andrea has also participated in the world premiere performances of three contemporary operas, David Blake's Scoring a Century in 2010, The Enchanted World of Economy by fellow student Renato Ferreira in 2013 and most recently she took part in the much-praised production of Mariken in de tuin der Lusten with OPERA2DAY during autumn 2015. Since May 2014
Andrea is a soloist with BarokOpera Amsterdam, appearing in productions both in the Netherands and in France. She also performed the role of 'Alcina' in La liberazione di Ruggiero d'isola Alcina by Francesca Caccini during Brighton Early Music Festival 2015.
Andrea is also in great demand as an oratorio soloist and her repertoire includes numerous cantatas by J.S. Bach, as well as his Magnificat, Matthäus-Passion, Johannes-Passion and H-moll Messe, Haydn's Nelson Mass and Little organ Mass and Membra Jesu Nostri by Dietrich Buxtehude.
Ever since her studies in the UK, Andrea has been a keen consort singer and has performed with various ensemble settings, focusing on mainly English Renaissance repertoire. Her own consort, Consort Mirabile, has performed at the Fringe series of the early music festivals in Bruges, Utrecht and Deventer. During July 2016, they were one of the resident ensembles at the VI International Music Festival in Piantón, Spain, and the group was also invited to join the IYAP program in Antwerpen during August that same year.
Griet De Geyter
Hidde Kleikamp

Eyjólfur Eyjólfsson
Eyjólfur Eyjólfsson was born in Reykjavík and graduated as a flautist from the Hafnarfjörður School of Music, where he also studied singing. He continued his studies at the Guildhall School of Music and Drama where he completed the Opera Course and MMus degree.
On the oratorio platform he has sung Messiah with the Royal Symphony Orchestra in Sevilla at the Maestranza Theatre, Berlioz's Messe Solennelle with the Guildhall Symphony Orchestra in King's College, Cambridge, conducted by Christopher Robinson, Mass in C by Dvorák with the Icelandic Symphony Orchestra, Bach's Christmas Oratorio in Hallgrímskirkja with the Hague International Baroque Orchestra, conducted by Hörður Áskelsson and Evangelist in Bach's St Matthew's Passion at Sant'Ambrogio, Milano.
Eyjólfur has given recitals in Iceland, England and France with acclaimed musician such as, Paula Chateauneuf at the Buscot House Theatre, Eugene Asti at the Gnessin Music Hall in Moscow and Dalton Baldwin, at the Festival de Musique Islande-Provence.
His operatic début was in the role of Spakur in the folkloric musical Kolrassa by Dr. Thórunn Guðmundsdóttir at the Tjarnarbíó Theatre in Reykjavík, since when his operatic roles have included Prologue and Peter Quint in The Turn of the Screw at the Music Festival in Kyiv, Ukraine. Lucano in Coronation of Poppea for The Early Opera Company at Iford with Christian Curnyn, Beppe in Pagliacci and Sellem in The Rake's Progress for Icelandic Opera, Liberto in The Coronation of Poppea for English National Opera, Sunleif Rasmussen's The Madman's Garden with Aldurbáran at the National Theatre, Reykjavík, Ottavio in Don Giovanni for English Touring Opera, Sailor in Dido and Aeneas for ENO, Opera North and also for the Northern Sinfonia.
For Holland Dance Festival Eyjólfur performed in Samir Calixto's Choreography of Schubert's Winterreise with Rudolf Jansen.
Matevz Kajdiz
Slovenian tenor Matevz Kajdiz started studying singing in Ljubljana with Barbara Nagode and Doroteja Cestnik Spasi. He continued his studies with Sasja Hunnego at The Royal Conservatorium in The Hague, where he graduated with distinction and completed the postgraduate program of The Dutch National Opera Academy. He participated in the singing master classes of Leonardo de Lisi, Marion van der Akker, Jill Feldman, Michael Chance, Ira Siff, Diane Forlano, Marc Tucker, Graciela Araya, Nathalie Stutzmann, Dennis O'Neill. He received one silver and three gold plaques in regional and state singing competitions in Slovenia.
As a soloist he performed at numerous festivals, concerts and has given several recitals across Europe. His recent engagements ilustrate his varied oratorio repertoire of Bach, Mozart, Schubert, Händel, Janacek, Martinu. The opera roles he has sung include: Don Ottavio in Mozart's Don Giovanni, The Sailor in Purcell's Dido and Aeneas, Don Curzio in Mozart's Le Nozze di Figaro, Dr. Miracle in Bizet's Docteur Miracle, L'Amonier in Poulenc's Dialogues des Carmelites, Arnalta in Monteverdi's L'incoronazione di Poppea, Ferrando in Mozart's Cosi fan tutte, Albert Herring in Britten's Albert Herring, Tito in Mozart's La clemenza di Tito, Conte in Martinu's Mirandolina and Idiot in Schnitke's Life with an Idiot.
Furthermore he regularly participats with several choirs of the highest quality such as The Slovenian National Radio Chamber Choir, Groot Omroepkoor and smaller chamber ensembles like Ribattuta and Ensemble La Silva..
Patrick Pranger
In Stil Moderno
Elin Erikson, baroque violin
Heidi Erbrich, baroque violin
Timothy Dowling, alto and tenor trombones
Simen van Mechelen, tenor trombone
Joost Swinkels, bass trombone
Piet Hulsbos, organ
In Stil Moderno is clearly one of Holland's most exciting baroque ensembles. Passionate playing combined with musicological discoveries and insights make every concert by In Stil Moderno a special event. With its unusual instrumentation – two baroque violins, three baroque trombones and organ – and exciting repertoire 'impeccably performed by virtuoso players', In Stil Moderno has won acclaim from press and audiences alike.
The internationally renowned members of In Stil Moderno came together in the Netherlands to explore the world of seventeenth-century music. They have created programmes containing unknown and unpublished repertoire, as in their 'Crown Jewels of Kromeriz' programme, that commanded international attention. Invited to perform at the Prague Early Music Festival, their discoveries were heard on television and radio, as well as in concert. Programmes centered on Venetian music and their successful 'Bach's Musical Porridge' series, also provide fascinating insights into more well-known repertoires and famous composers
In Stil Moderno has been invited to perform in numerous prestigious series and festivals, including two Dutch Early Music Network tours, the Prague Spring Festival, the Utrecht Early Music Festival, the Historical Brass conference (Paris), and the East Cork Early Music Festival (Ireland). They have enjoyed collaborating with many prestigious choirs, including the Grote Omroep Koor (the Netherlands) and Currende (Belgium), performing repertoire from Monteverdi's Vespers to J. S. Bach. Their two CD's 'Musica Polonica' and 'Musica Venetia' were greeted with international praise.
Schola Cantorum 'Die Sangeren Onser Liever Vrouwen'