Cappella Gabrieli - Rotterdam Choir
Our next concerts feature works by Tallis, Gesualdo and Manchicourt.
Pierre Manchicourt (1510 - 1564)
We will sing Manchicourt's five-part mass Cuidez vous que Dieu. In the first half of the sixteenth century, Manchicourt worked in the Saint Martin basilica in Tours, France, and in the Cathedral of Our Lady in Tournai, in what is now Belgium.  He later became the leader of the famous Cappilla Flamenca, Phillip II's court chapel. Manchicourt is not yet well known in current performance practice. We decided that we urgently need to do something about that.
Thomas Tallis (1505 - 1585)
The Lamentations of Jeremiah have inspired many composers. Great names have given these biblical texts beautiful music. To our taste, Tallis' interpretation is the most penetrating. It is as if Jeremiah's sorrow, and also his anger and despair, are indeed Tallis' own. It's not for nothing that Tallis' Lamentations were on our very first concert programme in June 1986!
Carlo Gesualdo da Venosa (1560 - 1613) & Theo Verbey (1959 - 2019)
We will also perform Virgo benedicta by Gesualdo. This is one of the motets from the Sacræ Cantiones II whose sextus and bassus parts were lost. Theo Verbey completed the score at our request. Partly due to his work, the Cantiones Sacrae are available for performance again after many centuries. Theo's additions were extremely successful. We are honoured that he composed this for us and we will perform his motet as a tribute to him.
We look forward to seeing you at one of our concerts!
---
Cappella Gabrieli is a chamber choir composed of experienced singers, conducted by Maarten Michielsen, and gives three to four concerts each year.
---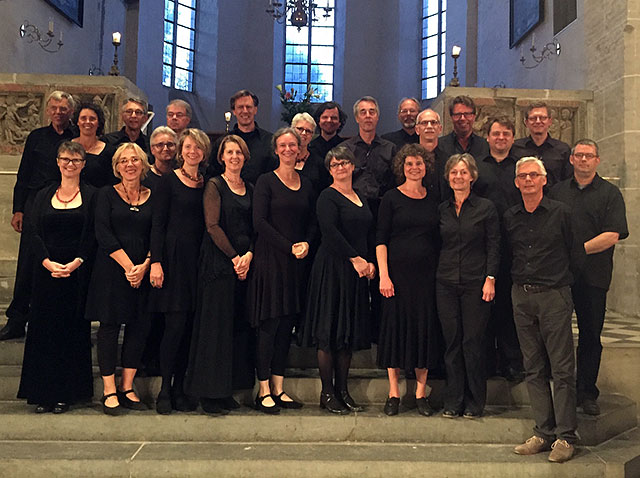 The Choir
Cappella Gabrieli specialises in early music - polyphonic renaissance and baroque music (Bach, Palestrina, Tallis, Lassus, Gesualdo), but also branches out to older (Machaut) and newer music (Mozart, Britten, Schönberg, Distler).
Thank you for your touching, inspiring and heartwarming performance [...]. Rarely has music touched me so much. - June 2015 concert attendee

I have listened to many different professional recordings of this work, but with the way you do it, it continues to captivate. That is partly because of your attention to expressing the text and through your collective musicianship. - June 2015 concert attendee
The chamber choir originated as Koorproject Rotterdam, one of the first project choirs in the Netherlands, with more than 30 years' history.
Cappella Gabrieli currently consists of around twenty mixed singers who rehearse every Sunday in the central-Rotterdam church Het Steiger. If you would like to join, please contact us. We are especially keen to hear from tenors and basses.
Am so happy I was there… Beautiful sound, articulation, interpretation, I enjoyed it […] Thankyouthankyou and congratulations! - September 2016 concert attendee