Cappella Gabrieli - Rotterdam Choir
Next concert
Sanft und stille - final concert Cappella Gabrieli
Sunday March 19 at 3:00 PM
Citykerk Het Steiger/Sint Dominicus, Hang 18, 3011 GG Rotterdam

» program leaflet (PDF, Dutch)

Entrance fee: €17.50
Students, scholars and children have free entry
[Tickets]
Sanft und stille - final concert Cappella Gabrieli
Sunday March 19 at 3:00 PM Cappella Gabrieli will give her final concert in the Steigerkerk aan 't Hang in Rotterdam. The program includes works by Palestrina, Gesualdo, Brahms and Schönberg, among others. The choir, which emerged from Koorproject Rotterdam and annually presented two or three programs, is returning to its original form: working on beautiful music in short-term projects with experienced singers in varying combinations.
Sanft
Under the direction of Maarten Michielsen, the choir with its distinctive mild sound has specialized in polyphony of all times over the past 37 years. With a concert full of highlights from previous programs, the choir and conductor hope to bring a wonderful time to a festive close.
Brahms polyphony?
No one will dispute that the music of Palestrina, who lived from 1525 to 1594, belongs to polyphony. But Brahms's motet Warum is das Licht gegeben from the nineteenth century can also be seen as such.For this motet Brahms copied the art of the old masters such as Palestrina. In this impressive piece, several melodies sound simultaneously and all voices are equal.
Old and new
In Gesualdo's Sacræ Cantiones Liber Secundus, some parts of which are on the program, old and new music are intimately intertwined. Of these six-part motets, which have been handed down in separate partbooks, two of the lost voices have been lost. At the request of the choir, the composers Theo Verbey, Joop Voorn and Henri Broeren rewrote them.
In 2005 the choir performed the first completed Cantiones at the International Choir festival in Arnhem. The program of this final concert must of course include the Cantiones.
---
Cappella Gabrieli is a chamber choir composed of experienced singers, conducted by Maarten Michielsen, and gives three to four concerts each year.
---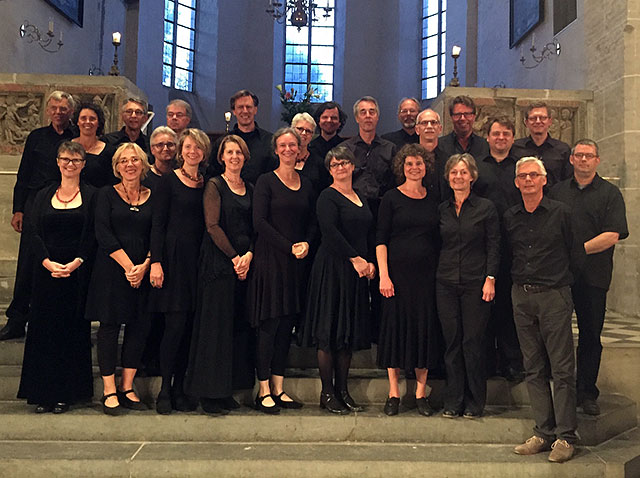 The Choir
Cappella Gabrieli specialises in early music - polyphonic renaissance and baroque music (Bach, Palestrina, Tallis, Lassus, Gesualdo), but also branches out to older (Machaut) and newer music (Mozart, Britten, Schönberg, Distler).
Thank you for your touching, inspiring and heartwarming performance [...]. Rarely has music touched me so much. - June 2015 concert attendee

I have listened to many different professional recordings of this work, but with the way you do it, it continues to captivate. That is partly because of your attention to expressing the text and through your collective musicianship. - June 2015 concert attendee
The chamber choir originated as Koorproject Rotterdam, one of the first project choirs in the Netherlands, with more than 30 years' history.
Cappella Gabrieli currently consists of around twenty mixed singers who rehearse every Sunday in the central-Rotterdam church Het Steiger. If you would like to join, please contact us. We are especially keen to hear from tenors and basses.
Am so happy I was there… Beautiful sound, articulation, interpretation, I enjoyed it […] Thankyouthankyou and congratulations! - September 2016 concert attendee