Cappella Gabrieli - Rotterdam Choir
Cappella Gabrieli is a chamber choir composed of experienced singers, conducted by Maarten Michielsen, and gives three to four concerts each year.
Josquin in Texas?
As a choir that specialises in polyphony, Cappella Gabrieli cannot avoid Josquin. After frequenting the work of Palestrina, Tallis and Clemens, it is now time for Joosken van der Weide. It's only logical that you invite a specialist from Texas for that.
Andrew Hallock (from Texas) has been singing with Cappella Pratensis for years and is a gifted teacher of the performance of Josquin's music. He will cover the use of voice, phrasing, intonation (tuning), musica ficta and specific style characteristics. All this brought with much knowledge and humour. Most inspiring!
Cappella Gabrieli invites experienced amateur singers to participate in this programme. For more information, please contact conductor Maarten Michielsen (06-14487661). On this web site, you can read about and listen to what we sing. Cappella Gabrieli rehearses in the centre of Rotterdam on Sunday evenings. The concerts are on Saturday evening, 17 November in the Oud Katholieke Kerk, in The Hague, and on Sunday, 25 November in the Eendrachtskapel in Rotterdam.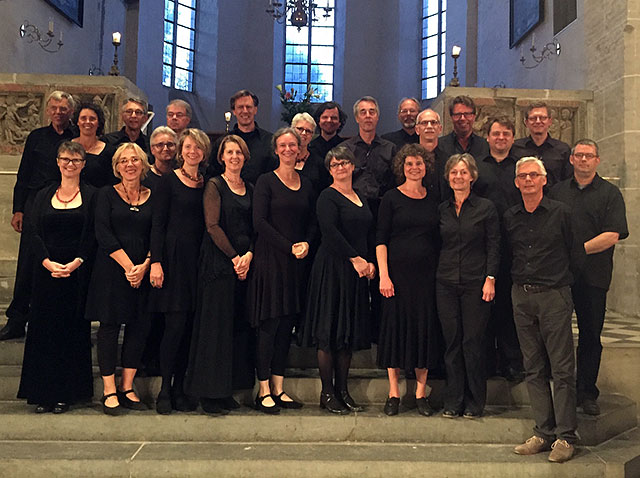 Cappella Gabrieli specialises in early music - polyphonic renaissance and baroque music (Bach, Palestrina, Tallis, Lassus, Gesualdo), but also branches out to older (Machaut) and newer music (Mozart, Britten, Schönberg, Distler).
Thank you for your touching, inspiring and heartwarming performance [...]. Rarely has music touched me so much. - June 2015 concert attendee

I have listened to many different professional recordings of this work, but with the way you do it, it continues to captivate. That is partly because of your attention to expressing the text and through your collective musicianship. - June 2015 concert attendee
The chamber choir originated as Koorproject Rotterdam, one of the first project choirs in the Netherlands, with more than 30 years' history.
Cappella Gabrieli currently consists of around twenty mixed singers who rehearse every Sunday in the central-Rotterdam church Het Steiger. If you would like to join, please contact us. We are especially keen to hear from tenors and basses.
Am so happy I was there… Beautiful sound, articulation, interpretation, I enjoyed it […] Thankyouthankyou and congratulations! - September 2016 concert attendee