Hugo Distler (1908 - Berlin 1942)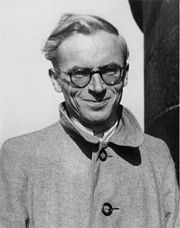 Hugo Distler was a sensitive young man and one of the Lutheran church's most important modernisers, and the illegitimate child of a manufacturer and a seamstress. His mother soon married (not the manufacturer) and left for America. Little Hugo was left to his grandparents and did not have a pleasant childhood. He took refuge in piano playing and took lessons in music theory and music history while at school. He later studied piano, organ and composition at the Leipzig Conservatory.
Distler concentrated primarily on polyphonic music from the renaissance and baroque periods (Schütz, Bach) and used his insights in his own compositions. He wrote these for the choirs he conducted, among others.
Distler was increasingly dealing with repression of the national socialist authorities. They had little interest in modern music ('if I hear the word "culture", I immediately draw my pistol,' Goebbels seems to have once said) and religion. His work was practically declared to 'degenerate art' a couple of times; there were still influential colleagues who were able to hold that fatal condemntation back. They very much appreciated his compositions, and Distler got more work. In his forties he thus taught composition, organ and choral conducting in Charlottenberg and conductor of the Berlin state and cathedral Choir.
However, the workload - especially the air attacks and the hostility of the authorities, who were threatening to draft him to the army, undermined Distlers mental stamina.
He committed suicide in 1942, aged just 34, far away from the idyllic world of his love songs from the thirties.